New York Giants: Eli Manning Is Under Fire Heading Into Week 4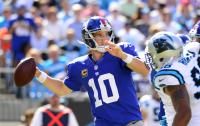 If you hadn't already turned off your set and renounced your emotional ties to the team by that point in the game, you're probably imagined that Curtis Painter replaced Eli Manning with 1:43 left in the fourth quarter. It was no mirage. On the fourth pass attempt of his Big Blue debut, Painter chucked his first interception as a New York Giant. I know the Giants already looked god-awful the last time they took the field, but can you fathom how much worse they would be if Painter were suddenly shoved into action. Manning's all this team's got left. And New York isn't taking care of its most prized possession. Alarming stats: EliManning has been sacked 11 times and has taken 22 hits in three games,. Patricia Traina (@Patricia_Traina) September 23, 2013 The Giants' steadfast signal-caller has remained standing for nearly a decade, but he took a few tough shots against Carolina that might've have kept other QBs down. A Giants fan's heart skips a beat every time Manning is planted, yet he's always able to peel himself off the turf. Well, not always. Remember Week 2 of the 2007 season? The Giants lost 45-35 to the Dallas Cowboys , and Manning didn't finish the Game Jared Lorenzen did .
New York Live Arts Presents THE INKOMATI (DIS)CORD Tonight
"These deeply considered and beautifully wrought works by Cekwana, Canda and Ouizguen will offer New York audiences an opportunity to experience compelling and provocative works, smartly connected to these artists' cultural and political histories, which are an important manifestation of the global contemporary dance scene." Making its U.S. premiere, The Inkomati (dis)cord is a collaborative work by South African artist Cekwana and Mozambique artist Canda. The work takes inspiration from both the failed, historic "Nkomati accord," a 1984 non-aggression pact signed by the Mozambique of Samora Machel and the South African apartheid state, and the "Inkomati" river, which crosses South Africa and Swaziland, ultimately spilling out into the Indian Ocean in Mozambique. In an attempt to break through artificial borders and traverse territories, using their own bodies, skins, identities and histories, the choreographers explore the internalized colonial boundaries that still alienate shared histories and aspirations. Performed by Amelia Socovinho, Maria Tembe, and Artistic Directors Canda and Cekwana, The Inkomati (dis)cord challenges languages, borders and physicality, finding a new narrative form. After the success of Moroccan artist Ouizguen's Madame Plaza (presented at New York Live Arts in September 2012 as part of Voices of Strength and at FIAF in September 2011 as part of Crossing the Line 2010), Ouizguen returned to her homeland to delve into the relationship that individuals maintain between body, soul and obsessions, emerging with her new work, Ha!. Making its NYC premiere, Ha! was inspired by the cultural terrain and the people Ouizguen encountered during her voyage – in the desert, mountains, schools and bars – enriching the movement, song and language in this new work. Performed by Ouizguen and traditional Aitas Fatema El Hanna, Kabboura Ait Ben Hmad and Naima Sahmoud, and featuring lighting by designer Jean Gabriel Valot, Ha! is an exploration of madness. Performances will take place in New York Live Arts' Theater. Come Early Conversations and Stay Late Discussions will also be featured with two shows. Tickets are $20 and $15.
850 snakes part of New York man's home business, authorities say
By the numbers: Pets Parrinello kept an online website, "Snakeman's Exotics," which advertised a collection of pythons, boa constrictors and hognose snakes available for sale both domestically and internationally. After weeks of investigation into alleged workers compensation fraud, the town of Brookhaven, the U.S. Fish and Wildlife Service, the New York State Department of Environmental Conservation, Suffolk County Police and the SPCA executed a search warrant in Parrinello's home, where he lives with his wife and 10-year-old son, according to a news release from Brookhaven. Undercover investigators spoke to Parrinello, who claimed to have $500,000 in inventory stored on the premises, including snakes, turtles and turtle eggs, the news release said. Authorities also say they found a few tarantulas and a couple of freezers with frozen mice and alligator carcasses. Krieger said Parrinello wasn't arrested or charged with any criminal activity, but he was running a business out of his residence in a residential area, which is a violation of the town code. Town Law Department officials are still investigating and will likely issue numerous violations in the coming days. When reached by telephone, Parrinello declined to comment. "What makes this case especially egregious is that this individual was allegedly operating this reptile business out of his home, posing an unknown threat to the neighbors of this community," said Brookhaven Supervisor Ed Romaine. Peter Constantakes, spokesman for the DEC, said Parrinello was interviewed and issued two summonses for possessing wild animals without a permit and for possessing alligator parts without a permit, each one carrying a maximum fine of $250. The U.S. Fish and Wildlife Service has banned the importation of Burmese pythons, along with three other exotic snake species and their eggs.